As Keane as mustard (laced with coke)
This may be a slightly delayed response to the vase-shattering news that Tom the singer boy out of
Keane
has come out of rehab for drug and alcohol addiction, but what the hell.
Whilst lounging beneath a large oak amid a forceful gale of tumult and wind today, it struck me. No not the oak... a thought. If it's a widely acknowledged premise that alot of the best music ever made was done so under the influence of addictive chemical substances, helping mad genii to unfurl their deepest and innermost creative juices in order to pen a masterpiece, then can you imagine what
Keane
's songs would've sounded like
without the drugs
?
Christ's feet. What is that stuff he's snorting... Persil? He needs to find himself a better dealer.
Pretty psychedelic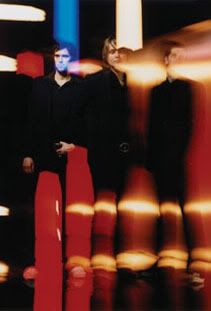 The Sun:
"KEANE frontman TOM CHAPLIN says rehab in a clinic for cocaine and alcohol addiction was "like walking to the edge of a cliff and looking into the abyss."
He should try having to stifle a yawn as the endless procession of non-descript, formulaic verse-chorus thigh-wobbling audio tripe for which he is to blame pierces the airwaves for not the fourteenth, nor the fifteenth, but the umpteenth (count them) time in my day. That's bloody worse than looking into the abyss you cheeky arse. In fact it's like lying in your own piss.
Which isn't to be recommended.