Pigeonocide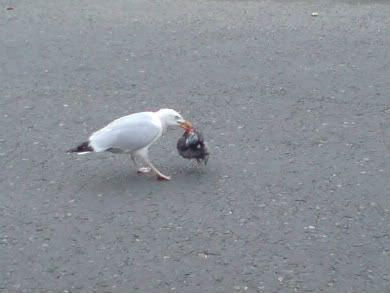 This is a photograph of a seagull eating a pigeon in a Newcastle street, as captured and texted to me by this blog's Edinburgh correspondent Dan, 26, socialist author, just moments before the seagull flew off with the little shit in its beak. Barely credible, nay,
incredible
scenes.
My
pigeon hatred
has been
well
and
truly
documented
into oblivion
on
these pages
, but my hatred of seagulls is nearly as strong. Anyone who spent numerous depressing Sunday afternoons in the North Yorkshire seaside town of Whitby during their childhood, like me, will know what it's like when the squawky scumbags viciously and ruthlessly lay siege while you're innocently trying to eat some chips. Some of these seagulls carry knives, and they need clearing off the streets, just like the pigeons.
Let them kill each other. It's dog eat dog out there; quite literally, as the above photo shows.