Smiths Pilgrimage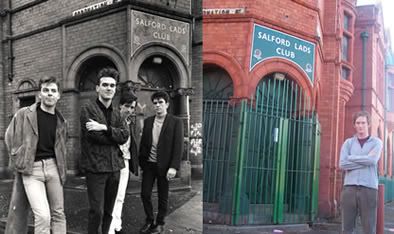 Salford Lads Club. Scene of one of the most iconic and lasting images of modern pop culture (see above). And also that place where The Smiths had their photo taken two decades ago.
On the final leg of my UK tour in Manchester this morning (see previous post) I was able to go on the trail of this great landmark in Smiths' history. Their most famous photo op, featured inside the
The Queen Is Dead
album sleeve, and later to feature heavily in the
Stop Me If You Think You've Heard This One Before video
. I suspect the graffiti on the railings is a bit different to your average Lads Club in any other town or city. Instead of
"Daz shafted Linzi ere '04"
the black felt tip read
"there is a light and it never goes out"
... lovely stuff.
Earlier in the morning I'd also been to see a small exhibition by Smiths photographer Stephen Wright in the city centre. He did the shoot at Salford Lads Club using his first ever Nikon camera, before going on to take more famous band photos. The exhibition also featured the shirt worn by Moz in the
video for The Boy With The Thorn In His Side
too, which was nice. The shirt had an intriguing little stain on the right-pectoral area. Looked like gravy to me, but I couldn't be sure. He doesn't eat anything in the video, so it'll have to remain one of those great unanswered Smiths trivia tidbits for now.
Photo of exhibition, including the shirt
.
Another Lads Club shot