"Two nil up, you f***ed it up"
Now I've slipped out of my two week coma, normal service will resume in these parts. Thank you for all of the flowers, grapes, celebrity magazines, and chocolate encrusted furniture you sent to me. Chance would be a fine thing.
Over the weekend I ventured south, in a southwardly direction, to the south of England, whereupon I stumbled across my beloved football team taking part in the inaugural fixture of the new Premier Leage season at newly-promoted Reading. A banana-skin match if ever there was one. This was probably the worst possible day of the season to face a newly-promoted side away from home. Inevitably the whole club - players, chairman, fans, kitman, groundsman, concourse chewing-gum removal officer, I could go on... (no? OK) - will be totally fired up for occasions like this. Boro faced a tough test.
A rubbish mobile phone photo of the Madejski Stadium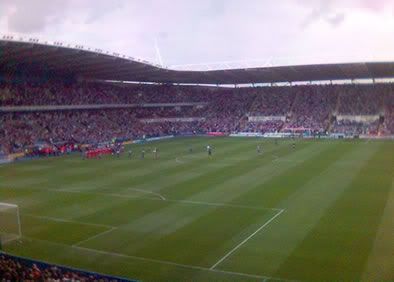 As it turned out, it was a walk in the park for Boro as we breezed into a 2-0 lead in the first twenty minutes. Fine, quick-tempo, composed possession football. We were oozing with confidence and always looking dangerous. But what followed was a tragedy, a collapse of elephantine proportions. We welcomed the kind of comeback usually reserved for ourselves in the latter stages of last year's UEFA Cup. If Boro were pigeons then Reading were cats. We just flew up, out of the way of conflict, as if in a town centre pedestrian zone, narrowly avoiding the faces of people going about their everyday business. Legs turned to jelly, heads were lost, Boro shirts began to mince about all over the place, each collapsing in turn and at the most inopportune moments to gift Reading victory. 3-2 down, nowhere to go. But we carve out an equaliser, get in, 3-3! But blimey, crikey and damnation, it's been wrongly disallowed. Defeated, we slope away. To make matters worse, we're still in Berkshire. What the hell do you do in Berkshire?
To think I missed all this football malarkey. The false hopes, the shattered aspirations - to think I craved them all summer. Next it's Chelsea at the Riverside. We'll beat them you know.