Spoonerism
This spoon was awarded to me by Laura, 23, friend of kittens, from Sunderland, while on a visit to the home of her and Michael Sebastian Laverick, 24, this weekend just gone, yes, that one there just passed: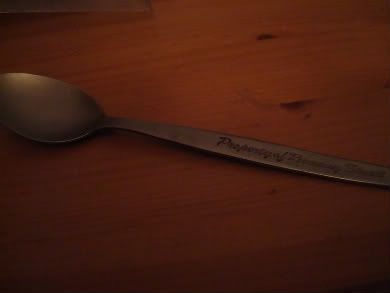 That handle does indeed say
'Property of Ramsay Street'
in the traditional
Neighbours
typeface.
Now
I remember why I have friends. Incredible scenes. I am led to believe this is official
Neighbours
merchandise from the 1980s, and therefore bound to have been individually hand-crafted by evil's Stefan Dennis, 49. Never in all my life.
This has brought the memories of being a young
Neighbours
acolyte literally flooding back. Indeed, I'd go as far as to say that if I'd had this spoon fifteen years earlier, my childhood would have been something resembling a memorable experience. Instead it was a sorry tale of what might have been, but emphatically never was. I remember the time I took the revolutionary step of trying to introduce the
Neighbours
sticker album into the primary school playground culture in 1993, only to fail miserably. It turned out I was the only one in my school collecting the stickers, which naturally made 'swaps' a nightmare. If I tried shifting that spare Lou Carpenter 'foily' once, I must've done it a thousand times. In the end I had to make do with swapping it for a standard, non-foily sticker of Cobra from
Gladiators
(another album I was collecting at the time). This was a miserable chapter of failure in my life, and I can only think that having this
Neighbours
spoon back then would've provided some form of consolation. And by the way, if anyone's got the top half of Annalise Hartman for swaps, please let me know.