Is this the greatest invention since The Wheel?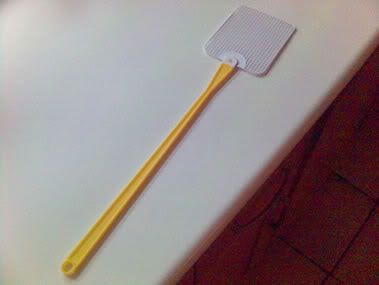 Possibly not. But it's certainly the best since people reinvented unsliced loaves, or first developed those contraptions you use to make melon balls.
A whopping 49cm of sheer plastic, it was introduced to the family home by my mother following a purchase for the princely sum of 79p from the local miscellaneous tat establishment,
Boyes
. Truly a purchase to alter the way we live our lives, the very tissue of our existence. Fly-swatting will never be the same again. Gone are the days of frustration of prancing about any given room with a rolled-up copy of the local evening paper, frantically slapping it towards flies who are always too quick, and may require at least seven murder attempts before witnessing their joyous elimination.
They've been particularly prevalent over the last few weeks with this nasty, oppressive heat wave we've been having. But since the glorious contraption pictured above entered my life, I've never needed a second swing. Every fly goes down with the first swat. The adrenalin rushes, my testosterone levels explode in a shower of machismo. When armed with this instrument I truly am the Daddy - do not cross me.
P.S. It also has many other uses, including the use of the white mesh-like structure for sieving flour while baking a lovely cake. If you have any other suggestions for the use of the fly-swatter, please do add a comment and I'll test it out.