Geordie genes
Yesterday's Tees-Tyne derby at the Riverside provided its fair share of emotional rollercoastery. It was Mark Viduka's first visit back after his
gutless transfer
to the Geordies and, as dreaded in all of my darkest pillow-pummelling nightmares, he scored against us. Worse still: it put them 2-1 up with 13 minutes left and had looked like being the winner, a fate which would've been harder to stomach than a breaded razorblade - or indeed anything else that must be quite hard to stomach, such as glue. To my relief, and thanks to a delightful equalising volley from Julio Arca, it all
ended 2-2
, which was a fair enough result. And also one you have to be content with after being quite close to losing.
The attacking void left by Viduka's despicable defection has, of late, been filled by our new signing Mido: a more enthusiastic, energetic, eight years younger, and Egyptian version of him. He's got two in his first two games and it looks like he could prove to be something of a Boro legend. Until he leaves too, of course. Yesterday he was the subject of some quite appalling chants from the Newcastle fans, who continue to shroud themselves in increasingly large swathes of shame with each visit they make. You'll find racist and bigoted elements in any large congregation of humanfolk, but the fact the majority of their 3,000 fans joined in with
"Mido - he's got a bomb you know"
shows just how many numbskulls were present in their throng. And when some bright spark discovered that 'Mido' rhymed with 'paedo' they sang
"Mido is a paedo"
too, which was nice. They've been getting worse in recent years and, frankly, everyone who joined in with either of those chants must be a scumfuck. Anyway, when Mido scored our first equaliser he ran straight to the Newcastle fans and responded in the best manner possible: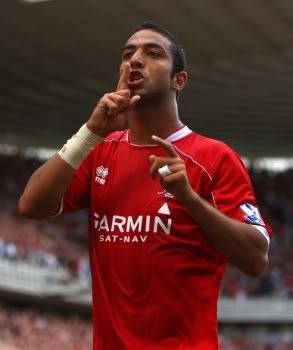 Exactly.