'Bring On The Dancing Horses...
...wherever they may roam'.
This night, I have been to witness Echo And The Bunnymen appear live at Stockton Fringe Festival, where they were quite superb, what with all their timeless indie classics and bouffant hair. I found it extremely heartwarming to watch them reel off an effective Greatest Hits set with justified shamelessness. They exist as an Ode to a lost era of indiedom, when bands were far more lastingly iconic than most can hope to be today, and when I was but a linen-encompassed bundle of irritance, i.e. a baby. 'Bring On The Dancing Horses', 'The Cutter' and 'Killing Moon' were undoubted highlights, and worked up the crowd (a blend of forty-somethings harking back to their youths and fresh-faced types still plotting theirs) until, staggeringly, a security bloke set about telling them to
"calm down"
. He even pointed down to the ground while saying it, the daft cretin.
Stockton Fringe is a free, three day festival arranged alongside Stockton International Riverside Festival, the street arts shindig. Although, in reality, the Fringe was probably a bigger event this year thanks to a more high profile line-up than it's had previously. Friday was headlined by The Ordinary Boys and Saturday by Badly Drawn Boy. Hardly inspiring stuff in my view of course, but much like Middlesbrough Music Live, free events like this have to be appreciated when they're on your doorstep. I went down on Saturday and Sunday with Welford and we had a ruddy good time on the site by the Tees, which, with its slow, soulful curve through Stockton, we agreed was highly reminsicent of the
Seine
as it cuts through Paris. But with less tree-lined quays and more stark concrete façades.
One of the best things about events like this is that some of the better local bands get a chance to play bigger stages. I'm very fond of Middlesbrough's own
Idiot Savant
. They're dark, harsh and manage to sound both tuneful and tuneless at the same time, which is something I always quite like. They're a very good band, and could be a great band if they'd just
all
stand up.
Idiot Savant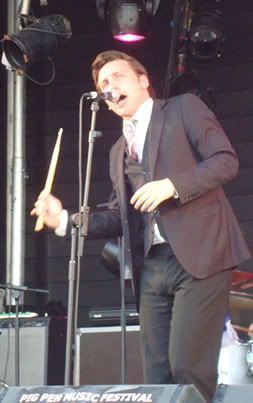 We Start Fires
are from Darlington, which is never nice, but they managed to make a bit more of a name for themselves nationally and are always good to see live [
photo
]. More recently, East Cleveland's
Dartz!
[
photo
] have also been getting a bit of a national following and, although I generally find that kind of slightly-
emo
(whatever that is) tinged pop nuggets slightly uninspiring, it's obvious they're talented. The weekend also saw us take in a couple of woeful stand-up comedians, the worst of whom was a woman from Yorkshire who tried to crack a succession of vagina gags to an early evening family crowd, with an annoyingly high-pitched delivery. She fell a bit flat and was well and truly flapping by the end.