Nicky Wire: What are you doing?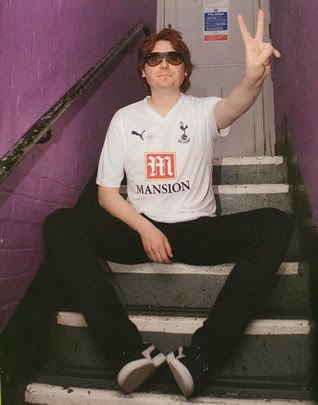 I've always known he was a Spurs fan (well, not
always
of course, but ever since I first got into the Manics. Which is really when I consider my life to have started, so yeah, I'll go back to my original lexichoice:
always
), but this is awful. I don't like to see my heroes acting in this manner. This is the equivalent of Morrissey being photographed spitting in the street and then scratching his crotch and burping. I suppose I should be grateful Nicky hasn't donned a Sunderland or Newcastle shirt, but I bloody hate Spurs too. The White Hart Lane lot are so cocksure, so consumed with self-importance, so convinced they belong to football's higher echelons, and somehow so misled that their club represents the way football should be played in its purest form, that they're hard to like.
I admire Wire's encyclopedic knowledge of football, really I do. In fact I've often become quite excited whenever he's opened up about his love for the game during interviews, in between referring to 1960s US politics and slagging off other bands. I think the fact they're all football (and other sports) obsessives, and the way that doesn't particularly correlate with everything else the Manics are seen to have represented down the years, is brilliant. But photos like this are vile and unnecessary. He only started supporting them because he thought Glenn Hoddle was good when he was young. He simply can't be a real Spurs fan because he's from Gwent, Wales for Pete's sake. Who is 'Pete' anyway? Sampras? This is a rant by the way, so I'll carry on. The above photo was printed in the official Tottenham Hotspur magazine, along with an interview in which he gushes about Tim Sherwood (who played for Spurs at the time) attending gigs when
Everything Must Go
came out:
"He was great - a proper Tottenham boy."
Oh, please. I've had a quite miserable enough evening football-wise after watching Boro slump to defeat at Wigan on TV, and now this.
N.B. This has all been a bit negative towards the man (but not without reason), and so I'll provide a fine old Wire quotation by way of balance:
"I do consider myself to be something of a pretentious wanker."
(1993)