Mark Viduka: How Could You?
To sport now, and football, where today Middlesbrough striker/fucknut Mark Viduka completed a free transfer to arch-rivals Newcastle United. The Australian ace/mercenary is reported to have agreed a £65,000 a week contract with the Geordies/Sickening Assortment Of Scumfucks having rejected a less lucrative contract extension/chance to serve the greater good on Teesside.
Not bitter though. More accurately, I'm gutted. It has been on the cards for about the last week though, so I have had some time to deal with the idea of this worst case of all worst case scenarios unfolding. It was bad enough that he wasn't going to stay with Boro, but him joining Newcastle and sporting those hideous black and white stripes is a real double-whammy.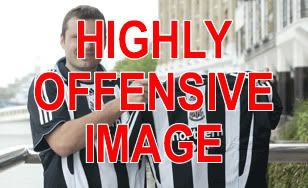 This move is entirely motivated by money. I know that shouldn't be of surprise, but for someone who openly and repeatedly stated how happy he was at the club and with his teammates in the last few months, it is a little bit. But anyway, if he can't appreciate the pricelessness of happiness then I hope he enjoys himself when it all goes tits-up up the road. I feel like swearing again: Twat. There.
At such times, I find it best to quote Marx:
"The wage labourer does not count the labour itself as a part of his life; it is rather a sacrifice of his life."