Big Dill at the Sage
Last night I had an appointment with meandering harpist extraordinaire Joanna Newsom at Sage Gateshead.
I was expecting the concert to be something special and it certainly didn't fall short. She first engulfed me when her latest album '
Ys
' was released a couple of months ago, full of these long, bizarre, and beautiful tracks played on harp and backed up with stunning orchestral arrangements from Van Dyke Parks, the composer and Brian Wilson collaborator. On this small UK tour she's been backed up by the full Northern Sinfonia orchestra to replicate the full experience in a live setting. And this setting was perfect; Sage is notorious for its superb acoustics. I went with Ed and we took our seats just as the support, Alisdair Roberts, was starting his set of enchanting Scottish folk.
From the point when the Northern Sinfonia piled onstage and Newsom followed and sat astride her big massive harp, it was spellbinding. Like nothing I'd witnessed before. I find it quite hard to describe it - all you could do was try and take everything in as it happened and I think it'll be another few days before it's all sunk in properly. She played
'Ys'
in its entirity in the first half, and it was just fascinating to watch a full orchestra in action, and playing songs you're familiar with. All of the different parts, stopping and starting - it brought the tracks even more to life than just listening to the album. Where they're pretty full of life to start with. And her voice sounded amazing.
View from the very top (taken during the interval)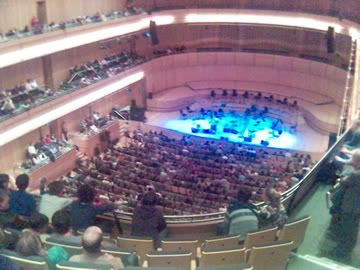 After the interval she mostly played alone, except for a few songs where she was joined by her two bandmates. She did a mixture of songs from her first album
'The Milk-Eyed Mender'
, traditional folk songs and one new one, which seemed to take a different direction. Despite the lack of the orchestra and this second part being more low key, it was just as captivating. In some ways more so, watching how she worked the harp and got so many different sounds out of it. The whole night really was an education for me.
If you're wondering who she is, watch this video of probably her 'best known' song, from her first album:
Joanna Newsom - The Sprout And The Bean