Another boring 'what I did' post
I went to Hull for the first time since I was ten years old on Saturday. That was when my sister lived there for a bit and I specifically remember being taken ice skating which, needless to say, was shite. This time it was in aid of supporting Boro, which needless to say, is... ah no, it's great really.
Hull is a bit like Middlesbrough lifted up into the sky, carried 109 miles south on a brisk wind, and then dropped onto the ground but dispersed more widely. So yeah, pretty good. We arrived about midday and parked up at the Infirmary (which looks like a more vertically-stretched version of the hospital in Garth Marenghi's Darkplace) and walked into the city centre for some pre-match drinks in the
Admiral Of The Humber
. There'd been lots of chat and hyperbole beforehand about 'trouble' between the two sets of fans, but obviously I wasn't going to get caught up in any of that. But the strange thing was I hardly saw a Hull fan all day. We could see lots of people sitting in their end during the match, but they may have been paid actors. The pub we were in was full of Boro fans, and all the way along the road to the ground I only seemed to see Boro fans. So it
really was
like Middlesbrough (so yeah, pretty good).
Semi-humourously, and semi-horrifically, our troupe of eight ended up sitting on the very front row with an appalling view.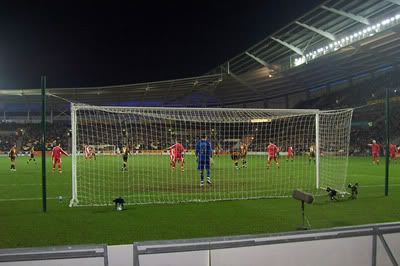 It was good if the action was down at our end, but if it went up the other end it was like trying to watch a Subbuteo match being played at the other end of a long corridor while peering over the top step of a staircase. From behind a mesh net, and peering round the goalie. Anyway, we took the lead with only 15 minutes left but conspired to end up drawing, which means a replay (because it's the FA Cup, non-footy types). Sadly I can't be present for that because it collides with my date with enchanting harp vixen Joanna Newsom at Gateshead Sage. I can't quite decide which will be the more magical occasion. Elongated fairytales of childhood innocence played on a harp and backed up by a full orchestra, or Middlesbrough vs Hull on a damp Tuesday night? You'd be surprised possibly... But I'm actually a little bit annoyed because it'll be the first Boro home league or cup game I've missed for a couple of years.
Speaking of gigs, after the match in Hull I drove like the wind back home in time to catch a train so I could go and see Das Wanderlust in Stockton. They are an excellent Teesside-based quirky fuck-pop band, and were joined by a similarly splendid band from Leeds called Cowtown, who I'd never heard of before, and long-standing cult Middlesbrough purveyors of props, Shrug. All good stuff, and an extremely entertaining evening. I didn't stop smiling. Honest.
PS: Those hard-hitting social commentary posts coming soon.