Long Weekend
Where possible, it's good to kill a few birds with one stone. And so, a jaunt to London over the weekend afforded me the opportunity to (a) see some family members, (b) see Boro make the much-dreaded annual trip to Arsenal, and (c) visit the site of my eventual and inevitable rise to the corridors of power.
Last season it was 'Arsenal 7 (SEVEN) - Middlesbrough 0' as Boro's combination of vulnerable youngsters and lackadaisical veterans turned in a performance with less guts than Ghandi after stomach liposuction. Thankfully I wasn't there then, but I was this time for the visit to their new digs, the Emirates Stadium. Emirates-Schmemirates... it's got obscenely big seats, wide enough for your average spherical football fan I suppose. All well and good, but I felt a bit lost in mine. Further problems arose when I expected to be able to pull my seat down without needing to look round, only to find myself fumbling about without success because the seats were so big they went above my hips. Anyway, enough of the seats.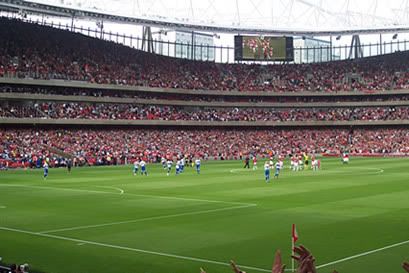 We got a very creditable 1-1 draw, and weren't far off holding out for a heroic one-nil until Captain Boateng was red carded for being a fool. Jonathan Woodgate was immense on his debut as he guided the back four through the game. A picture of composure. He was like a lollipop man outside a primary school, helping all the rabid little children get from A to B unscathed. He'll be amazing for us this season if he can stay fit.
I also took
this picture
while I was down there. It explores our capital city's bumper-to-bumper culture but, rather than focussing on the vehicles themselves, it hones in on the spaces that seperate them. I consider it a triumph. If anyone can suggest a title for this piece via the comments link below, I'd be most appreciative. For when it's displayed, you see.
On Monday I went on a tour of the
Houses Of Parliament
. I'd already done the tour once as an 11 year old on a school trip, but I was far too young to take it all in back then so I wanted to do it again. It's very interesting, in fact I'd recommend it. And I don't recommend things very often, I prefer to scoff, so take note. It was particularly enjoyable to follow the tour 'in character', as if I was an established frequenter of the various rooms we visited. In the Queen's robing room, I waved a bit and imagined being helped into my corset and stockings by Prince Philip. I postured at the despatch box in the House Of Commons as if delivering a keynote speech, before popping up the back benches to launch a party rebellion. I gave press interviews in the Central Lobby. I even fell asleep in the Lords. OK, that is a lie... I scrutinised legistation and suggested amendments to the elected Members back in the Commons. Obviously.
All in all an enjoyable trip. Wouldn't want to live there though... after every time I go down there I arrive home and take a good, sharp sniff of the salubrious Teesside air. The sweet, bouncy aroma of freshness. The open space, and being able to do that thing where you spin with your arms outstreched like a helicopter. You could swing a tiger up here. Wouldn't want to though.