BSP + JDB = A Real Mixed Bag
I feel a brief musical update is well and truly in order. Friday night delivered my latest encounter with everybody's favourite purveyors of magical soundscapes and delicious art pop,
British Sea Power
, at The Empire in Middlesbrough. Like all of their gigs I've seen, it descended into yet another suitably raucous affair - this time with the introduction of a tin-foil robot.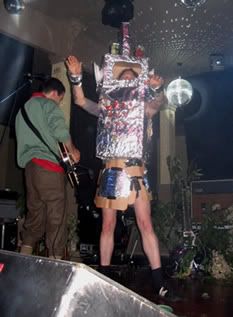 Their gigs are extremely entertaining, mainly due to the fact that they're intent on creating chaos on stage by the time they get round to their head-fuck finale of
Carrion
and
Lately
. When I saw them down at Dot-to-Dot in Nottingham in May, it was even stranger with Noble disappearing offstage and reappearing in a
duffel coat complete with inflatable green alien head
. Go and see them if you've never managed it in all your life thus far. Your insanity depends on it.
A far more saddening development this week was the release of the debut solo album from Manics frontman
James Dean Bradfield
. The man is a legend, but this is very disappointing fare... it sounds like a bunch of the more mediocre Manics b-sides from 1996 repeated enough times to fill an LP. It also sounds like JDB wrote a load of catchy choruses first and then added the verses later to pad out every song. I wasn't necessarily expecting a brilliant album, but
The Great Western
even lacks some of the redeeming factors of the most recent Manics albums. Considering he's been such an outrageously fine songwriter over the last fifteen years, writing alot of my all-time favourite songs in the process, it's disappointing. Less said about it the better. Mind you, I'll still be going to see him on his October tour...