A Night With The Stars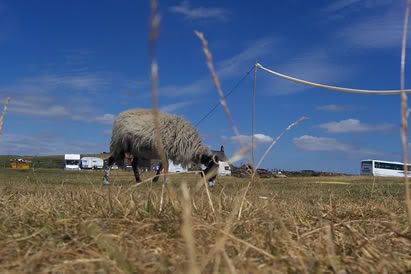 Let me be weak
Let me sleep
And dream of sheep.
Mmm, sheep and that. Last night I camped upon the great Moors of North York with a small cluster of acquaintances, and I really must say it was a most pleasurable experience. Not only did it signal a glorious bridging of the gap between Man and Earth, but it was also a good opportunity to get merry on ale and peruse the stars. From Blakey Ridge, perched majestically atop the moors at 1,325ft, the dark sky is your visual oyster. It was an eye-opening experience... we saw shooting stars, ambling stars/satellites, and a couple of constellations that dispelled consternations. The longer you looked, the more you saw. We just lay on our backs for nearly two hours staring at the sky. It was a catharsis for me, I felt cleansed as I lay gasping in awe at the white trails that occasionally burst out above me. I felt connected man... innit.
Not having any of it.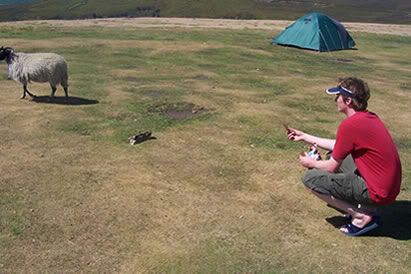 As the morning sun beat down heroically, I woke like a human sweatbox to the grating sound of irate sheep bleating just the other side of my tent's flysheet. Lovely. It was probably about three hours later when I finally gave up with the old pseudo-sleep routine and admitted defeat to the great woollen ones. As the old saying goes: 'if you can't beat them, try and lure them with Bourbon Creams'. He had a few nibbles, but was ultimately disinterested.
Camping on the moors will hopefully be on the agenda again some day though, and when it happens, I know those stars will be waiting for me.
The new advert for the Vauxhall Corsa: The best car baah none.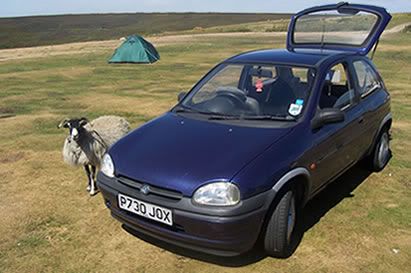 (I really couldn't think of anything better than that - it's late).
Everyone in this photo is an actor, l-r: Jen, Laura, Ed, Lav.