"That's the weather... for now"
I find the best thing about the emergence of 24-hour news channels is the proliferation and increased celebrity profile of our weather forecasters. I say 'our' because I truly believe they should be considered the property of the populace. In my utopia we would elect our forecasters, they would represent us and we'd then be able to hold them accountable at the ballot box. Almost like democracy today but with a bit more effort made to adhere to the most fundamental principles. My system would operate very smoothly because although forecasters may get it wrong from time to time, one thing can be assured - they never lie.
My favourite current forecaster is the BBC's Dan Corbett. Where some presenters seem almost fearful of making an impression, Dan just goes for it and imprints himself on the forecast so much the weather map had might as well consist of a massive version of his face. He first sprung to my attention in 2004 when my whole university household in Nottingham found itself entranced during his appearances. To this day, if we hear the line "
and here's Dan Corbett with the weather
" in Flat C, everything else stops. And with good reason.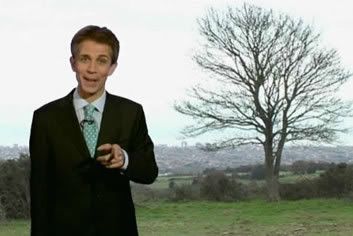 "That's the weather... for now"
(for now? What, you can do
more
?)
The Corbett weather experience is unrivalled in terms of its captivating powers - it's like a whistle-stop national tour of bizarre hand movements, phrases and meteorological analogies. All accompanied with a slightly camp form of received pronunciation. Brilliant. Clouds never just 'move in' or 'build up', in Corbett's world they
"bubble up"
(along with bubbling finger signals). And they always
"squeeze out one or two spots of drizzle"
with him. A couple of weeks ago there were
"a few showers knocking on the doorsteps of Northern Ireland."
He described one cold front moving in from the east as
"this big rainy boomerang"
and later, when using radar images to show stormy weather, admitted
"it looks like we've gone mad with some crayons".
You just don't get stuff like that from Peter Gibbs and Robert McElwee.
His clever use of physical movements to keep you engrossed all the way to the end is a mark of Dan's genius. He swoops about the map, often ducking, and simulates projected cloud movements with sharp whips of the hand. I love the way he makes you feel like you're involved too.
"Just watch this..."
he says, as if preparing you for the havoc about to be unloaded by a particularly vicious area of low pressure. I also love the way he interferes in your daily itinerary by proposing what you might do at a certain time.
"Some spots of drizzle bubbling up in Cornwall tomorrow morning - perhaps if you're taking the kids out for the day you'll pack the umbrella and some light cagools just to be safe."
Yes Dan, I might, but frankly I can't fathom why it's any of your business.
"For those of you up early it could be a mucky drive to work."
Mucky? Do we all reside in fields? Anyway, I'll get there eventually - just stop interfering and live your own bloody life. But no, I love it really, just knowing
somebody cares
.
Sadly, it would seem the powers that be at the BBC don't hold Dan in a similarly high esteem. He rarely features on terrestrial news bulletins and instead often languishes in mid-afternoon slots on News24. A batch of young, poster boy bores are preferred ahead of him for the most high-profile slots. I'm talking about Alex Deakin, Matt Taylor, Darren Bett and Thomasz Schaferknaker of course. It's all symptomatic of the mediocrity we're seeing across television these days. Clearly, the meterological hierarchy are intimidated by Corbett's immense charisma. He is the twinkling diamond in an
otherwise pedestrian weather team
.
As for the other channels' approaches to weather forecasts, I'm less qualified to comment. I avoid watching ITV News on a point of principle (i.e. wanting to know the news) and thus am only familiar with the so-called work of Siân Lloyd. Unlike the BBC lot, she's not even a meteorologist and purely a presenter. I notice the otherwise excellent Channel 4 News has left the forecast in the hands of the newsreaders, which is plain nuts. Meanwhile, the one positive thing Rupert Murdoch has ever done for the world is evident in the work of
Francis Wilson
on Sky News. Although extremely well-learned and highly respected, he seems completely disinterested in his work, despite devoting his entire life to it. Which I like.
My unhealthy interest in the identities of our weather forecasters has been ongoing ever since I wanted to be one myself. Between 1991 and 1993 I was convinced it was my destiny to work beneath Michael Fish at BBC Television Centre. I set about developing a sound base of meteorological knowledge in my spare time so as I could immediately impress Fish when finally invited for an interview. I got practice in by drawing my own exciting weather maps - where there'd be scorching hot sun in the midlands and snow blizzards in the north-east - and delivering the forecasts before family members. I even gave a talk on the different cloud types at primary school (from stratocirrus to cumulonimbus, I covered it all). By the way, this was after I wanted to be a priest and hosted fake masses (1989: proof of the scarring capabilities of a Catholic upbringing) and before I was obsessed with being an estate agent (1996: yet more proof of pure irrationality). Just so you can grasp the chronology of it all.
Priest/weatherman/estate agent... quite an odd trio isn't it? Clearly I was a total megalomaniac in my formative years. And that's the weather... FOR NOW!