The year's last, loveliest smile
Autumn is perhaps my favourite season of the year, closely followed by winter. I like the general feeling of nature's maturity and impending decay and gloom. And the fact everyone else seems to be brought down a peg or two from their misguided summer bounciness. Additionally, I appreciate the autumnal colours brought to our leaves, whether they be squashed on the pavements or lounging nonchalantly atop a branch.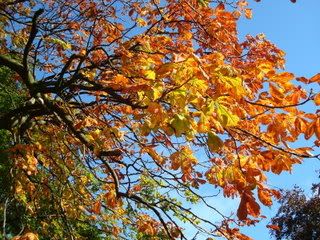 Platt Fields Park, Manchester, this morning
I was reading the other day about the fact that this is one of the most colourful seasons we've had for years. The spell of still, mild weather we've been having - as well as the wet summer followed by a dry autumn - has provided ideal conditions for producing such golden colours as those depicted above. The stillness means we can enjoy this year's autumnal feast above our heads rather than below, and I think it makes for delightful viewing. If we get a few gales then it'll all be on the floor, of course, but then it means we can skip along gaily kicking the leaves into the air and giggling wildly. So it's the best of both worlds.