Top drawer giggery (and a kick in the balls)
I saw two of the best gigs I've witnessed for quite some time at the end of last week. The first was
Patrick Watson
at Night and Day Cafe in Manchester on Thursday with Jimi. His album 'Close To Paradise' is lovely, and its loveliness is aided by the fact I've pinned him down to being halfway between Jeff Buckley and Devendra Banhart, which is always a nice place to be. His voice was just as good live and his band perfected the art of providing backing whilst not being too intrusive.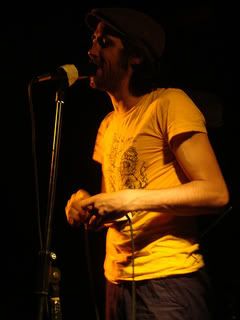 The venue was great too. It's in the arty Northern Quarter and is quite a long, narrow, darkened room with a stage at the far end. Nice and intimate. It feels a bit like you're in a cellar bar, except you're not. I'm sure I'll be a regular enough visitor while I'm here in Manchester; although, humourously, I've already had a trip back home for my very first weekend to see the Boro game and
The Young Republic
at the Knights. I met David amongst the braindead Friday night crowd in The Star and then we 'hooked up' with Dan and Rob in the venue (no hooks were actually involved though, it's just a phrase. It's not like we physically connected our clothing to form some kind of big human chain).
What a fine live band they were. There's eight of them and they all crammed onto the Knights' stage with their guitars, violins, glockenspiels and all. They seem to be building up to something a bit special, so it was great to see them visiting Middlesbrough. And they seemed pretty happy too as they accepted rapturous applause from their first ever sell out show. They deserve to be very successful, but whether they are or not will depend on the taste of the general public, which of course is rarely to be relied upon. Their melodies and multi-instrumental power were quite mesmerising though.
After two great highs, the Boro game on Saturday managed to bring me down a few pegs thanks to a frustrating last-minute equaliser from Sunderland after we'd controlled the game from the second minute until the second last. If only it'd been from the first until the last, we'd have won 2-0.
"But hey, that's football"
, apparently.