Stay With Me
I've been going through some quiet torment over the past few weeks. It heightened almost two weeks ago and has since become a dull, lingering ache in the back of my mind. I know posts about football in the past have caused some chagrin among the non-footballing-interest readers, but piss off, it's my blog. You lot can avert your eyes. Anyway, the problem I've been having surrounds the future of Mark Viduka, whose Boro contract is about to run out and
he's stalling on signing a new one
. I'm quite desperate for him to stay with us. Not least because he's a class act but because it'll be impossible for a club like Boro, in our current situation, to replace him with anyone as good. His form over the last season and a half - when he's, crucially, been fully fit - has delivered some of the finest individual performances I've seen from a Boro player. In the last game of the season at home to Fulham, he was inspirational, scoring two goals nobody else could score for us. It looks increasingly likely it was his last ever game for us.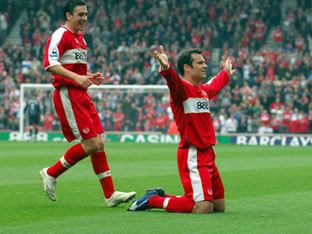 When the squad did their lap of the pitch to mark the end of the season there was a bit of a chill in the air around me about the way he was waving to the fans. Was it a farewell? Taking photos of the crowd, blowing kisses, carrying his kids around, the lot. Then, when he was interviewed that night on Match Of The Day and he came out with some bollocks about astrology (
"I'm a Libran and we like to procrastinate"
) my heart sank. It was the first time I'd really got a gut feeling that he was off. This was two weeks ago, the height of my inner torment, and I actually couldn't get to sleep because I was so agitated about it. I know it's pathetic... I'm 23 years old and lying awake worrying about whether an Australian is going to take £40,000 a week in wages from my team or someone else's.
But it rumbles on. He's on a beach in Australia now weighing up his options, presumably on a comedy sized set of scales constructed from plastic buckets. There's still a chance he'll be a Boro player next season. I know it won't be the end of the world or Boro if he's not, but I thought I'd just record my Wish For The Summer. There. Football post over, the rest of you can look back at the screen now.