Send Away The Tigers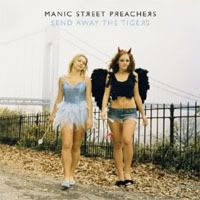 I've had a few days to digest the new Manics album now, after patiently waiting until Monday's official release instead of downloading a leaked version beforehand. This makes it the first album I hadn't already heard the majority of before it came out since
This Is My Truth...
in 1998, and it was just nice to listen to a Manics album fresh for a change. They've billed it as a return to their natural and instinctive best, a rediscovery of what made them tick in the first place, and a shedding of what they've tried to become over the past few albums (hence the album title, a Tony Hancock quotation about dispensing with your demons).
It's certainly a completely different beast to
Lifeblood
. Much more raucous, embellished and at times even theatrical. Every song is immediate, and JDB has obviously been let loose with the indulgent guitar solos. He's slipped one into every single track. All in all it's better than what I was expecting would come next from them, and has some great moments.
Your Love Alone Is Not Enough
is an obvious belter. I felt like a proud father when it took them back to within touching distance of the top of the charts last week. I thought those days had gone altogether, but it's great to think they've reached the kind of platform again that might reel young teenagers in, get them into their back catalogue, and then influence them positively in the way I was ten years ago. There is hope in pop music yet.
Opening track
Send Away The Tigers
and
Indian Summer
both hit the proverbial spot, while
The Second Great Depression
might just be my favourite Manics song of this millennium. For me, these are the album tracks that sound like they came most easily to them, you can just tell. Although some of the faster, more rugged songs towards the end are decent enough and actually quite good fun, they don't sound altogether convincing. At times maybe even contrived. Mind you, there's a bit of a guilty pleasure in the shape of
Autumnsong
, an overwhelmingly cheesy stadium rock nugget of bounciness with Guns n Roses guitar all over it (taking a return to what made them tick in the first place literally, perhaps?).
It's quite funny how every Manics album is intended as a reaction to the last. This one is an antidote to the sweet, coffee table melodies of
Lifeblood
, which was a response to the directionless hodge-podge of
Know Your Enemy
, which was a raw riposte to the MOR arena sounds of
This Is My truth Tell Me Yours
, which was a melancholic diversion from the rousing anthems of
Everything Must Go
, which was a liberating break from the mental strains of the bleak
The Holy Bible
era, which was a reaction to the (botched) crack at the American market that was
Gold Against The Soul
, which was a more dry and powerful rock angle to the glamorous and ridiculous meanderings of
Generation Terrorists
. See? Eight studio albums, and never two in a row that sound the same. Obviously they're not what they were, but I for one am glad they're still around. I can't wait to see them for the tenth time at Newcastle Academy on Tuesday night - it's going to be splendid.
Some album tasters