An afternoon (not) paragliding
Summer and its mischievous ways seems to be upon us again. I can tell because I'm allergic to it, what with all the sunburn, hay fever and eye sensitivity I suffer when placed it direct sunlight. It's a season that renders me effectively disabled. But as they say, one must battle on in the face of, erm, the sun. This afternoon I ventured out on a family trip up Carlton Bank (about 6 miles from my house), a regular haunt of mine because you get good panoramic views of the area and there's a nice bit of grass to play football on. There was some haze in the mix today though so the views weren't as good as they can be. Anyway, while up there, we encountered a crazed band of paragliders, who are people who find it fun to just run off hills and float about a bit.
Teesside sky (note the iconic peak of Roseberry Topping in the distance)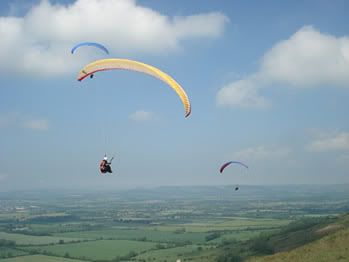 I'm not one for extreme sports, that much is clear. And although I'm not sure if paragliding is actually considered extreme by most people, it's quite extreme enough for me. What possesses these people to seek some abstract "thrill" from zig-zagging in the air, and placing themselves at unneccessary risk in the process? In my list of preferred methods of death, a paragliding accident is way down the pecking order. In fact, I think if I passed away after crashing into a hillside and being smothered in parofoil in an embarrassing manner, I'd be bloody livid. There are an infinite number of more dignified methods of death. Drifting off in my sleep, falling asleep in the bath, and taking a bullet to save a small child are just three examples. I consider dying in the name of "leisure" a bit of an insult to life, and I think that's the main reason I'm so lacking in adventure.
Here's an example of how fun can go wrong for you. I watched this inexperienced paraglider take off, only to crash back into the hillside less than a minute later. She wasn't hurt herself, but a nearby family (including two babies in a twin pram) were struck by her parafoil and it took nearly two minutes to free them from the mess of wires. Although nobody was fatally injured, I'm sure everyone involved will bear the mental scars of the incident for years to come.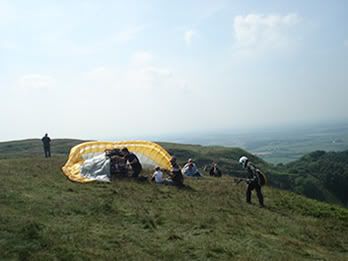 My first instinct was to take a photo, instead of running over to help them out. I must admit I'm quite appalled at myself for acting like a morbid, careerist photographer who'll take a picture before saving a life. I suppose I'm just the latest Kevin Carter (Manics reference for you there). Or maybe I'm more like one of the first paparazzi to reach Princess Diana's crash scene. Never mind though - I've already had Reuters and the Press Association on the line to make big cash offers. I just hope the relatives of the people in my photo won't try to get the courts to stop them being broadcast here. I think they're in the public interest.