Download your personal Christmas card
You wouldn't believe the price of Christmas trees this year. Much like the soaring price of bread, they're going for previously unthinkable amounts of cash. Market forces are at work, and in some ways it seems a shame that tree fans are being held to ransom at what should be a time of goodwill. But then again, Christmas is, afterall, nothing but a lurid festival of commerce and materialism designed to keep our artificial capitalist economy afloat, so perhaps it's fitting. Anyway, the tree has gone up in Flat C and yes, it's a real one.
The inhabitants (and a tree)
To celebrate all of this, I hereby invite you to download your own personal Christmas card from me and flatmate Anna, 24. It might not look very personal, but once you print it out on some white A4 paper, fold it in the correct way, and fill your name in on the dotted line, it will be. If you're still in any doubt as to your card's sincerity, feel free to send in your name and we will, after considering your reputation and character, respond to either confirm or deny the sentiments expressed within it.
1)
Download your to-be-personalised card
here
.
2)
Adhere to these simple folding guidelines:
3)
Fill in your name.
4)
Display prominently in your home or place of work - away from naked flames. And scantily clad flames too.
As you may have spied, the tree is overseen by a Gareth Southgate angel: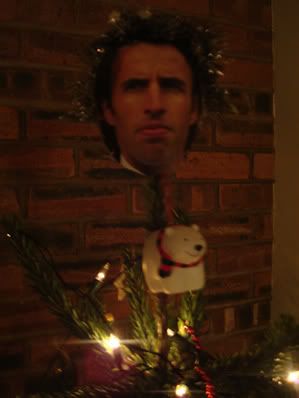 Middlesbrough manager Southgate (pictured), 37, married, once beleagured, deserves his place at the tree's summit and special tinsel hair because of Boro's glorious shock victory over top-of-the-table Arsenal last weekend. I just hope he's still in the job at Christmas.