All Tomorrow's Parties
An enthralling weekend was had by all at ATP. It's certainly quite a surreal festival to go to, what with it being held amid the gawdy surrounds of a Butlins holiday camp having a capacity of just 6,000 people, all living in chalets and what not. It was extremely refreshing in comparison to other festivals I've been to. There was such a relaxed atmosphere all weekend, and the crowd was reassuringly free of idiots and scenesters. Just good, honest folk who genuinely appreciate their music, and crazy golf.
The laid back atmosphere means the artists can wander around the site freely all weekend (most of them tend to stay for the whole festival). Nick Cave was sighted multiple times, strolling about in his very sharp, snappy suit with his wife on his arm. There were also sightings of various members of Maximo Park, who weren't playing of course but had presumably just come along for the craic, and not to mention Joe Mangel from Neighbours (more on him later...). Even though it was strange being at a festival where all the bands play indoors in venues that are otherwise used for games of bingo and Red Coats kids shows, the surreal elements all somehow piece together to make perfect sense.
Our chalet for six comprised of me, Jimi, Jen, Kieran, Ali and Will and we all got on very well, which was nice considering it was a veritable melting pot of different social circles haphazardly thrown together. Me, Jimi and Jen went to school together, Jimi went to uni with Ali, who lived near Will, and Kieran was on my old journalism course. See.
The Music
First things first,
Nick Cave
. Except I didn't see him first, but I'm sure it's clear what I mean. What a stunning man he is, the undoubted highlight of the weekend. He was the initial reason I decided to go to this whole shebang, and it was the first time I'd be graced by a live performance from him. Aswell as the second, third, and fourth. This was because he played a solo set followed by a set as part of his new outfit
Grinderman
two nights running, which is technically four Nick Cave sets. I felt guilty by the fourth time because I'd become quite complacent about him ("oh look, here's Cave again"). In truth we were a bit spoilt, but he was excellent every time. He varied his solo set over the two nights and got through lots of classics like Red Right Hand, The Mercy Seat, Into My Arms, Weeping Song etc etc. I was quite surprised by his charisma and sense of humour, which made him all the more endearing. When he morphed into Grinderman things kicked off a bit more and he was charging about along the front of the stage spitting out all the lines. Great energy for a 49 year old. A true genius.
On the Saturday afternoon we were having a look round when we heard Grinderman soundchecking, and so tried to get in to have a look. They rattled through one song (Get It On) in full for a tiny crowd and, considering this was my first ever sighting of the great man, I was really quite enthralled. They sounded so powerful and it really whet the appetite for what lay ahead. Strangely, they had Bobby Gillespie on stage with them, pointlessly wriggling about with a tambourine in his hand and doing backing vocals every now and again.
Soundcheck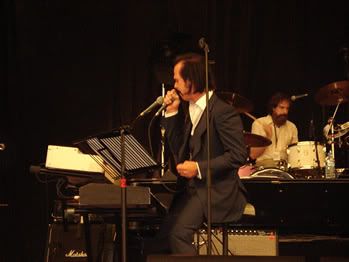 Other main highlights of the weekend:
Joanna Newsom
played brilliantly for just under an hour. I'd seen her before but this time it was much more intimate as we entrenched ourselves near the front of a big crowd. Absolutely stunning, although it was bizarre watching her in what was basically a bingo hall. We were standing beside Paul Smith of Maximo Park, who was loving it, perhaps surprisingly.
Felix Lajko
, the super-talented Serbian/ethnic Hungarian violinist, did a thirty minute recital without even taking a break. He also played a zither, whatever one of those is, and it was baffling and beautiful.
Low
were also beautiful. They played alot of their new album, which is more of a slow-burner than the one I most like (The Great Destroyer), but really impressive nonetheless. I was very taken by
Shannon Wright
too, with her abrasive guitars and piano set against vocals not a million miles from PJ Harvey. Really good stuff. A few years ago she did an excellent album with
Yann Tiersen
, who was playing ATP too but I didn't see due to a scheduling clash with Nick Cave. Instead, Kieran and I took it upon ourselves to go and see him at the Bristol Thekla the night before the festival. This was a wise move because he turned out to be quite a big let down. Where you expect an enchanting feast of solo multi-instrumentalism, there is instead a full rock band recreation of his compositions that kills most of the intrigue. He only produced his accordian once and his violin three times, which was a pity. But still, it was good to tick him off the list and remove any regrets about missing him at the festival.
I saw lots of others too, but if I keep going this will be ridiculously long. But I will say that Cat Power was disappointing, Mary Margaret O'Hara was highly entertaining, it was too late when Josh Pearson played (more on him later...), Psarandonis was interesting, Spiritualized left me cold, and Dirty Three were mightily impressive and well done to them for curating the festival and putting together such a good line-up.
Interesting Incidents
#1: On Saturday morning the hot water wasn't working in the chalet, so me and Kieran hopped out of bed and went for a swim at Splash Water World so we could use the showers afterwards. After slipping into the pool filled with other skinny, pasty white indie types we encountered Josh Pearson (who we'd watched play on the Friday night and who has one of the biggest beards I've seen) enjoying the wave machine, alone. As more and more people joined the bobbing throng on the waves, he got more and more delerious, splashing his arms about and screaming his head off. This was quite funny. But then it progressed into a cult-like situation, with Pearson leading a whole crowd of discerning indie types in ecstatic choruses of joy and baying for the wave machine to be put on repeatedly, much to the amusement of the Butlins lifeguards. They put it on three times running, and I've rarely seen a crowd so united in delerium at 11.30am on a Sunday. It was quite a religious experience, and one of the funniest things I've ever seen. Maybe you had to be there.
#2: Joe Mangel from Neighbours (a.k.a. Mark Little)
At the risk of turning this into a Heat magazine column, he was there for the weekend, presumably thanks to the high quota of Australian bands on show. He seemed to be pissed-up the whole time and generally looked a bit miserable. But undeterred, I set about getting closer to the man behind my favourite character from the earliest days of my Neighbours viewing career. The man responsible for such extraordinary thespian feats as when Kerry Mangel was killed at the duck protest (
must-watch YouTube clip
). The way he falls in that water is brilliant. Anyway, when I asked him for a photo he seemed particularly concerned that it was taken on a proper camera and not a mobile phone.
"You got a camera?"
"Yes."
"Not a phone?"
"No, a camera." With this technicality cleared up the photo could proceed, and at the precise moment it was taken he was saying
"this fucker's got a camera".
It was amusing to hear Joe Mangel say this, which is why I'm trapped between two facial expressions in the photo.
"This fucker's got a camera"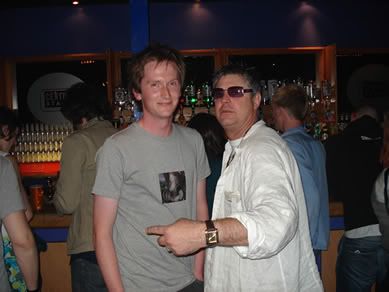 #3: Impromptu Smiths disco
Walking back to the chalet on Sunday night drunk after attempted dancing at a rubbish little club night effort, we stumbled across a group of people dancing around a battery-powered stereo outside on the pavement. It was blurting out The Smiths'
'Hatful Of Hollow'
album, and everyone joined in to
This Charming Man
and
How Soon Is Now?
. Gradually the crowd got bigger and bigger, only for the Butlins security to arrive and stop this Smiths-based illegal rave. What a brilliant way to end the festival though - an expression of pure humanity. Smiths fans prancing about in unison on a pavement, throwing our arms out in a Morrissey-esque manner and letting our necks go limp. I was in my element. You just don't get 100% Smiths discos any day of the week.
Here's a few snaps in an
ATP photo gallery
.