Wolfing It Down
On Thursday night I went to see Patrick Wolf at Newcastle Academy on his pre-album release tour (
The Magic Position
is out tomorrow).
As is customary for these gig jaunts to Geordieland, Lav and Laura's Sunderland abode was used as Event HQ, for things like eating, sleeping, and stroking their evil cat Amelie [
photo of evil cat, Amelie
]. Welford drove me and Ed to Sunderland where we then got on the Metro to Newcastle, and used the journey as an opportunity to engage in some fiercely contested games of Paper Scissors Stone.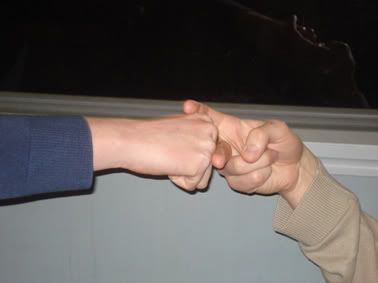 Here, my stone beats Ed's scissors. In fact it doesn't just beat it, it's actually bent one of the metal blades backwards. I must've got carried away.
Anyway, Patrick Wolf was excellent but possibly not as excellent as I'm used to. He's been so amazing the previous four times I've seen him that I think my expectation levels have been raised too high. But really, my only problem is the way he seems to be approaching his live set these days. As he's becoming ever more upbeat and outlandish on stage (which I don't have a problem with) he's also actually
playing
less and less himself. He's got a full band on tour with him at the moment (violin, double bass, drums, laptop minder) and he seems content to let them do alot of the work, so during many songs he doesn't even pick up an instrument himself. This despite the fact he's an obscenely talented musician.
I want to see him playing himself. I think it's all tied in his development into a full-blown pop star, working the stage with camp theatrics (including mounting the speakers and shoving his hand down his crotch during
The Childcatcher
). That's all well and good - I'm all for a bit of superstar quality - but at the same time, there's nothing wrong with being a musically talented pop star. He should show it. The very first time I saw him in March 2005 it was just him and a drummer, and he was constantly switching between instruments. Piano, violin, ukulele... it was fascinating to watch. At times on Thursday night he was effectively doing karaoke renditions of his own songs, singing along to the (brilliant) electronica he'd devised for record. It left me feeling a bit unsatisfied... I wish it didn't, but it did.
I'm being hyper-critical, because I allow myself to be when I'm so fond of someone's work. He's still the most life-affirming artist about at the moment, of course. I've been listening to the new album alot (out tomorrow, repetition fans) and all in all it's a great record. I'd say all three of his albums are more or less on a par with each other, although
The Magic Position
is less of a complete work. Rather than being a fine body of work from head to toe like
Lycanthropy
and
Wind In The Wires
, it's got some stunning aspects and some less than stunning ones. It's like someone with a really beautiful neck and splendid thighs and kneecaps, but only an average chest and uninspiring ear lobes. It's a far more upbeat record, and it sounds like he'd found love when he wrote the majority of the songs, and wanted to tell everyone about it. I really like the way his albums document clearly identifiable stages of his life so far;
Lycanthropy
is a troubled teen on the run, while
Wind In The Wires
is him identifying his destiny as the true Libertine and falling back in love with the earth.
The Magic Position
(out tomorrow, repetition fans) is him breaking out into full-on joyfulness (don't worry, I'm sure it's just a phase). But seriously... I see his albums so far as being three consecutive chapters in a book you can't put down. It'll be very interesting to see what comes next in the Patrick Wolf story. Mental breakdown, gambling debts and a day job in Woolworths I reckon.
The Libertine
was the highlight of Thursday's gig, and conveniently I happened to film it. Note that he's
actually playing
ukulele throughout. It's a great version with the violin part meandering and swooping, and it's just a shame I decided to nod along in appreciation so the video is quite shaky. I'll stand motionless next time. Also, he humourously dedicated it to Spuggy, the seminal character from mid-90s Byker Grove
("Probably the biggest inspiration for going ginger for this album"
), as a nod to the city he was playing in.
(If you want a version that isn't messed up by YouTube, where the sound and pictures are in sync, then
download it here
).
After the gig we went back to Sunderland and went to some nightclub and danced to 80s hits [
photo of non-dancing activity from the others
] including
Dancing In The Dark
by Bruce Springsteen, which pleased Welford no end for some unknown reason.
Good grief, apologies for such a long, rambling post. It's quite higgledy-piggledy, and I'm struggling to leave you with a positive message. Would you take two negative ones? (joke copyright Woody Allen 1968).